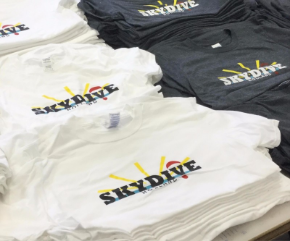 This section is a compilation of answers to the questions our clients commonly ask. Just start by following one of the links below.
If you think of a question that is not on this list, please ask us the question and let us know what you're thinking. If enough people ask the same question, we'll post the answer in this section for future visitors.
To ask a question, click here.
---
What can we print?

At SIGNWORKS, we can print almost any design that you can come up with on a wide variety of clothing from t-shirts and yoga pants to hoodies and coats. If you can dream it, we'll print it. Just send us a message and we'll see what we can do. We'll work with you to create the design you want.

What is Screen Printing?

"Screen printing is a printing technique whereby a mesh is used to transfer ink onto a substrate, except in areas made impermeable to the ink by a blocking stencil. A blade or squeegee is moved across the screen to fill the open mesh apertures with ink, and a reverse stroke then causes the screen to touch the substrate momentarily along a line of contact. This causes the ink to wet the substrate and be pulled out of the mesh apertures as the screen springs back after the blade has passed."

If you have any more questions, let us know!

How many items can I print?

At SIGNWORKS, we can support orders of all sizes. If you have a small office and just need a handful of promotional shirts, or if you have a large order of thousands for a soccer club or school, we'll take care of it. We don't believe in minimums, everybody has different needs and we are here to fulfill them.

Do I provide my own shirts?

No, you do not have to. We prefer to supply products to our customers so that we can ensure that they get the best quality and exactly what they want. Just let us know what type of item and what material you prefer and we can source it for you.

What is the best way to exchange information?

We have several methods of communicating with our clients. Email, fax, phone, online file transfers (at our FTP site) and personal visits are all common practice in our business. It is important to us that we make it easy to do business and save you time!

Do you deliver?

We absolutely do. We can deliver it directly to you, or if it happens to be far away we can coordinate shipping to get it to where it needs to be.

What type of files should I send?

Ideally, artwork sent in Vector, AI or EPS format is the best to minimize charges to you, and also makes it easier for us because we don't have to spend a lot of time digitizing your artwork.

You can send us the following file types, but keep in mind there may be a conversion charge depending on the type:
PDF, JPEG, PSD, CDR, PNG, DCS.

File types that we don't suggest sending are: Microsoft Office, MS Word, Paint, or Powerpoint.

I don't have artwork, can you help me?

At SIGNWORKS, we have talented designers on staff to help you create the artwork you want. We will collaborate with you to get the design exactly how you'd like it to be.

Did you scheme up a cool clothing design but aren't sure what to do next? Send us a message with all of your information and we will work together to make your idea a reality. Just click the title above and it will take you right to our contact page.