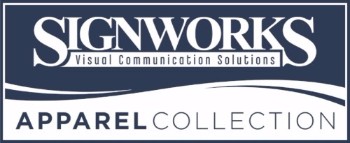 At SIGNWORKS we are excited to take on any challenging printing job you can hand us. If you have an idea, we'll find a solution to make it happen. Every job comes with it's own specific needs and we want to know everything about your project so we can provide you with the right final product to get your message across effectively.
We also want you to feel confident in the processes we employ to get your project done, so we make every attempt to educate you about our business. If you'd like to see our facility, just let us know and we can schedule a meeting. We've collected several resources regarding screen printing and posted them here to help you feel comfortable about speaking our language.
---
To start the process, please browse the options to the left to help you narrow down your design, learn more about what we do, or see some examples of our work. If you already know what you want, contact us and we can get started on your project right away.
Welcome to SIGNWORKS Apparel Collection!